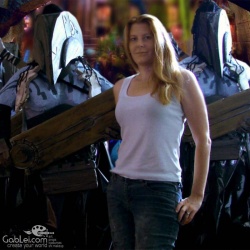 HELLBOY II: THE GOLDEN ARMY
PROPS & SET ELEMENTS | COSPLAY
The Prince Nuada and Mr. Wink costumes had some decently complex props that I thought I would share a little more detail on how I made them here. Along with the costumes and props I ended up having a whole theme happen.
There is a lot on this page so there are buttons to jump to areas faster.
The Extending Spear and Mech Hand have short videos.
The tooth fairy box was for Mr. Wink to carry. It is made from pine wood that I hand routed the design onto. The seal was sculpted in Durham's Water Putty for the Nuada costume. I just recast a few in epoxy resin for the box. The handle is a cut closet rod with curtain rod finials for the ends. And the dots are decorative upholstery tacks. The finish is hand painted and the carry strap is a thick old leather belt riveted through drawer pulls.
Of course the tooth fairy box needed tooth fairies! I really wanted to have a case full of tooth fairy jello-shots lol! I only needed a basic shape as detail is not really needed for jello. These were a quick little addition. I did end up making a few in resin and clear casts because I could.
Prince Nuada's Extending Spear
The Prince Nuada extending spear took me the most time. I wanted it to extend from the center, not from one end. I consulted engineers at Purdue and a friend who works with NASA. With what I had access to at the time, they really weren't much help. I did eventually work out a system with nested poles, a cut up metal measuring tape, screen door wheels, rivets and a tie clip. 
The spearhead was sculpted from Durham's Water Putty and cast in epoxy resin. The outer shell was sculpted with clay and cast with fiberglass resin. The inner pole was coated with water slide prints and it was all hand painted. The spear head was coated in several layers of Pledge floor gloss as that is a clearer shine than polyurethane. and doesn't interact with metallic paint.
Someday, when I have some time, I would like to revisit the spear as I now have use of a CNC machine and can make the parts I need..
Mr. Wink's Mechanical Hand
This had to shot off. It just had to. 
I found a toy that shot a large Nerf ball and I gutted that for its parts and built the hand and arm around that. 
The hand and elbow blade are made from various foams, including a tots soccer ball. After carving all the parts I coated them with plastic dip and painted them. 
The arm is fiberglass and lined with thick soft foam for comfort. 
You can not get a lot of distance with the hand but enough for some fun Troll football..err handball.
Life Size Butcher Guards Statues
We had decided to don the costumes again for handing out candy for Halloween and I really wanted guards to be lined up along my walkway for the trick-or-treaters. I quickly whipped them together from duct tape, pink foam, yarn, plastic liner, leaf bag holders, and pvc pipe. The kids got a kick out of them 🙂 and they loved Mr. Wink. We now try to dress up for candy night – its just more fun that way.